Authlogics
Designed for use by IT managers, Authlogics is intended to replace increasingly insecure password solutions with alternative forms of authentication. The startup offers a number of solutions, including using multi-factor authentication to produce single-use tokens that replace traditional passwords.
The company also offers what it calls deviceless 1.5 factor authentication, which offers enhanced levels of security without the need for additional devices or software by presenting the user with an on-screen challenge that only they would know the solution to. Authlogics' products are available now through authorised resellers.

guardSI
Web applications have played a key role in a number of high-profile cybersecurity incidents, so many companies may find guardSI's product DefSpider an ideal solution. The service provides risk analysis of web applications through the simple input of a url, allowing companies both big and small to determine how secure their web-based products and services are.

The company is currently offering free valuations at this initial stage, and is likely to roll out more extensive paid-for services in the future.
Privacy Audit
Responding to a growing issue for consumers, Privacy Audit is designed to help users control their online personal data. Through a stylish user interface, users are able to discover how much information is discoverable about them using just basic information, giving them the tools to clean up their online presence and ensure that everyone from employers to would-be identity thieves can only access the data a user is happy with them accessing.
The system can also provide information about what data brokers know about a user, will notify users if a fake online identity has been created using their profile and can even delete data held by merchants at users' request. Russia-based Privacy Audit is currently in the development stage.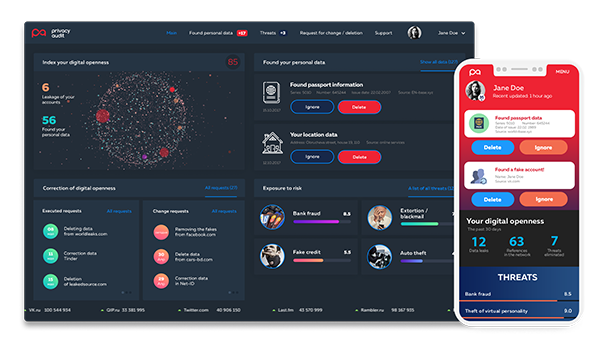 Everspin
Describing itself as "the world's first dynamic security system", Everspin provides a cloud-based security system for applications known as Eversafe. The system distinguishes itself from competitors by using dynamic security modules that are created regularly and destroyed after a set period of time, ensuring that they cannot be re-used and therefore falsified.

The system can be installed on phones, IoT connected devices and PCs, and is being targeted at Fintech companies and games companies, both of which require advanced security solutions. Eversafe is available as both a standard and premium service, the latter of which includes antivirus and a security keypad.